Key Applications
UHMWPE pipe for dredging
Slurry pipe
Tailings pipe
Coal mine pipe
Wear resistance pipe
Mud & sand dredging pipe
Pipe for municipal sewage sludge dredging
---
Uses
Mining Industry -UHMWPE pipes are used as transportation pipelines for mine slurry, tailings, sediments and ore concentrates.
Coal power plants – UHMWPE pipes are used as pipelines for the transport of coal slurry, fly ash and the fly ash water slurry.
Dredging Industry – UHMWPE pipes are used to transport mud and sand during dredging of rivers, habours, dams and lagoons.
Construction Industry -UHMWPE pipes are used transporting the slurry of the mixed concretes and shotcretes from pump trucks as well as drilling sand/rocks from underground tunneling
Ultra PE abrasion-resistant piping systems are manufactured to meet specific applications for operations moving highly abrasive materials, :Mining – mineral, phosphate and coal mining; feed, waste and debris lines; in-plant piping; tailing lines, backfill; waste disposal; slurry transport; raw ore streams; in-process streams; paste; shotcrete
Product Conveyance – dilute and dense phase pneumatic movement operations for powder and bulk materials such as cement; coal combustion byproducts; slurry transport; biomass feedback; glass, frit and plastics; food products.
Fossil Fuel Power Plants – FGD reagents (wet or dry); pulverized fuel; fly ash; bottom ash; economizer ash; coal combustion byproducts
Mills and Foundries – in-plant piping; blow lines; storage; waste disposal; slag; sand lines.
---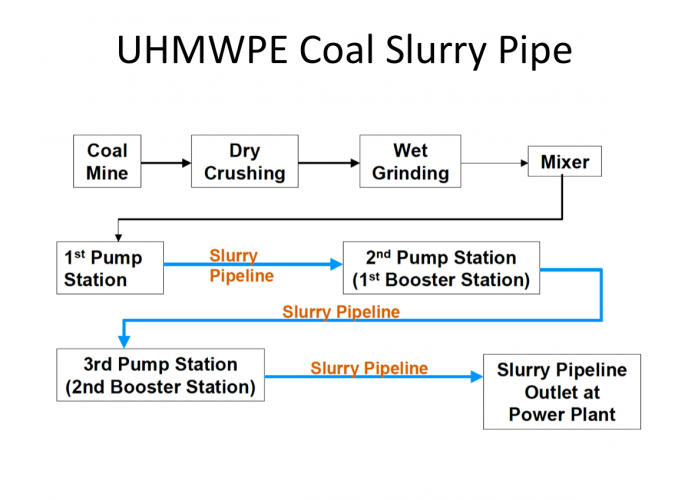 ---
Uses
Applications for UHMWPE pipes:
transport  mine tailings and slurry in the mining industry
transport  mud and sand for dredging
transport  powder and coal ash in thermal power system
transport  pulverized coal and coal-water slurry of coal preparation plant in the coal industry
---
Examples of Applications of UHMWPE Pipe
Piping systems for coal-fired power plants for conveying of coal ash slurry to nearby settling ponds, transfer of limestone slurry to absorber spray towers for removal of SO2 and dilute hydrochloric acid from flue gases, and for transporting away the calcium sulfate by-product of the flue gas desulfurization process
UHMWPE pipes can be used for limestone slurry which is used in flue gas desulfurization (FGD) systems, where it reacts with the flue gas thus removing the SO2. In the process, limestone slurry is converted into a calcium sulfate slurry. The waste products are then pumped from the bottom of the FGD spray towers through UHMWPE pipe for further treatment.